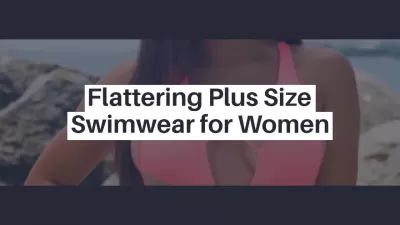 ---
---
They say that chubby is the new sexy today in line with the emerging power and confidence found in women who might have exceeded a little bit from their normal weight.
That confidence you carry with you every time you choose what to wear every time you go out in the public is even more intensified via the thought of you being comfortable with how you look.
Being fashionable applies to everyone even those with healthier bodybuild or weight. Going to the grocery, to the mall, to the church, to school, or maybe on the beach is just a perfect chance for you to show off your best style.
What is flattering about wearing plus size swimwear?
Definitely, there is nothing wrong with wearing whatever swimwear you like as long as it fits you well and that you feel comfy in it. Everything is up to you; the color, size, shape, style, and others.
The idea that what you will be wearing is plus size doesn't always have to seem negative especially for you who will be wearing it. Such a term as plus-size should only mean there is appropriate swimwear for people like you.
Unlike before when you are always struggling with what to wear and where to find them just because there are very few sizes available, like from small up to XXL only, you now have the opportunity to choose from a variety of styles and designs that are made for your size.
Another thing that's flattering about wearing plus size swimwear is that they are created to emphasize your best assets, instead of just producing a design for big sizes. Of course, you still have assets to show off like others!
How to choose the perfect plus size swimwear?
In choosing the perfect summer attire for you, there are certain reminders that you need to consider to help you select the loveliest fit for your body.
Don't forget to know your measures first. That's very important. Usually, swimwears need to fit your hip, waist, and bust so focus on those parts' measurements.
Check and compare the sizes of your old swimwear. Doing this will give you an idea of the exact size you have now. If you think you've gained a little weight from the time you wore one of those, then it's probably helpful to adjust it higher.
Whereas, buying online is very much dependent on your exact size. It is, likewise, recommended that you buy from department stores first so you try the item first before buying.Browse the internet for shops selling plus size swimwear and see what design you would like to have.
If you think it will fit you or that you are sure of your size, then it's absolutely fine to purchase it right away. However, if otherwise, take a picture of such design and head over to the nearest department store and find your precious swimwear.
Conclusion
Sisi Olisa – coach Don't wait for the right weight to live the life you want.
Updating your summer wardrobe is one of the most enjoyable activities. And whether it is a fashionista with a chiseled figure or the owner of appetizing forms, while shopping, the main goal is to find a beautiful and stylish outfit in accordance with fashion trends. Today, plus size representatives have no reason to envy thin women, because designers are increasingly paying attention to plus size clothes.
Therefore, in the summer of 2022, at work, on vacation or at a party, you can always be in trend. It remains only to take into account the main fashion ideas of the season, and feel free to buy your perfect flattering plus size swimsuit!
Summer is not just for the fit and fab but for everyone. Just go on and be happy and confident of your body so that everything else follows, no matter what you wear or what your size is.
---
Explore Your Business Potential: Discover Our Range of Transformative Courses Today!
Unveil the power of knowledge with our diverse array of courses, from Operational Procurement in S/4HANA to SEO essentials. Elevate your expertise and drive success in your business ventures.
Get your course
---
---