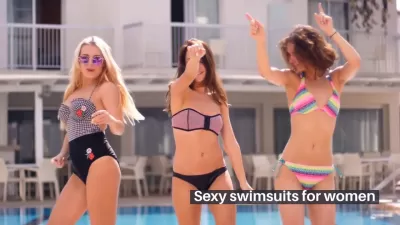 ---
---
Summer is approaching faster than you think and you want to show off your spectacular figure you have been working for a long time, that is why we bring you the four sexy swimsuits for women that can not be missing in your bath bag.
How to choose it?
You want to have your beach outfit that steals all eyes, we tell you that it is not necessary to combine the color of your bikini with your skin color; rather you have to think about your tan tone and thus perfectly combine your bikini with your tone of tanned skin.
Which prints are the best?
About shades and prints, you can use floral prints if you want to look more fresh and youthful with a sexy neckline that highlights the chest or your back, as well as you can use your gold, silver or metallic bronze bikini in the that you will look like an awards statue highlighted by the metallic shine of your bikini.
And not only can you use those metallic colors to shine, but you can also acquire your solid colored bikinis with diamonds, sequins or glitter and so you will stand out on the shore of the beach since when the sun's rays come into contact with the brightness, you will shine even more.
What colors are the best?
If you think that beach fashion is immune to general fashion trends, then you are deeply mistaken. Designers' craze for cutouts on clothes in the most unexpected places has come to swimwear. But what about the trendy colors of women's swimwear this summer.
Swimwear neon shades became popular last summer. This season, the trend has been preserved and replenished with new shades. All so popular are green, orange and pink.
Find the perfect model for you
Not only the print and shades of your bikini will make you look sexier than you imagine, but you also have to accompany it with the perfect model and with which you feel the sexiest woman on the beach. That is why we bring you these 4 models that will cause a stir on the beach.
Model 1) 1 piece bikini:
It is indisputable the existence of one of this bikini in our bath bag, with which we feel safer with our body. We can play with the design of these bikinis since it can be a model in which you can sharply highlight your chest, or keep it covered delicately and sensually.
Similarly, the neckline can be in the area of your back and highlight the beautiful figure of your perfect back or even highlight your tattoos in case you want to display it completely.
It can be either a monokini that is stylish and sexy, or simply one of the one piece bathings 2020 that will not get out of fashion anytime soon.
Model 2) Bikinis:
We all have a two-piece bikini in our closet, the simplest, timeless and recommended if you want to show your abdomen to the crowd. The sexy swimsuits for women are those two-piece models in which you will captivate with your sensual figure.
Model 3) Retro bikini:
Many women and teenagers have that roll that we don't like and we have the perfect solution to make you look sexy and radiant. The retro bikini is the perfect solution to hide that roll and you will look sexy and beautiful because it will highlight your silhouette perfectly.
Model 4) Bandeau
For those who did not know the name of those bikini models that look like a top, here we tell you everything, the bandeau bikini are those that reflect that you are wearing a top, in which you will look sensual and elegant at the same time, the perfect combination for a walk in the sunset along the banks of the beach in the summer.
Conclusion on choosing the sexiest swimsuit
In this article we tell you all; from the shades and prints, such as  an animal print   bikini set or a neon one piece swimsuit, to the model you should have in your bath bag, therefore with these tips, you can look and be the sexiest woman on the beach during the summer.
---
---
---