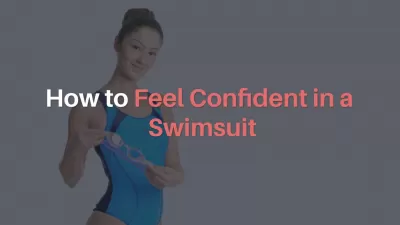 ---
---
Swimsuit season is upon us. It's time for warm weather and parties by the pool. There is no better time for looking amazing and feeling your best.
For many, this is their favorite time of the year — a time for vacations and soaking up the sun. Yet for many women, it is the time of year when a lack of self-confidence has them covering up their bathing suits with faded old t-shirts.
Women are especially famous for letting negative self-talk keep them from engaging in fun summer get-togethers. But why?
The answer is body image insecurities. These insecurities are evident in the number of filtered pics being posted on social media.
We no longer share accurate images of how we look but instead use pretty filters to make us look better than we are. As women, we are our own worst critics when it comes to our bodies.
Everywhere you go, you hear about BMI, body mass index. Your BMI determines your health risks, dietary needs, and it even helps determine the cost of your life insurance. For some people, BMI can be a constant reminder that they are overweight and out of shape.
Fearing judgment from others and comparing yourself to those that you label as prettier, smarter, or having a lower BMI will zap your body confidence.
We can look at pictures in magazines and all over social media and see how the world thinks women should look — pretty, young, and skinny.
When we don't see ourselves as that, we feel the need to try to alter our appearance simply to make others see us as attractive. However, you are already beautiful!
Remember that the feeling of comfort in a bikini depends, first of all, not on the appearance and physique of a woman, but on her inner self-confidence, in her beauty. If you are one of these women, then this article is for you. We'll show you easy ways to feel more confident in a bikini.
And if you are still asking yourself the question - how to feel confident in a bikini, then we will show you the answer!
Here are a few tips for feeling and projecting confidence in your summer swimwear this season.
Shop for the Right Fit
Lacking confidence in swimwear may have a lot to do with not wearing the most flattering bathing suit for your body type.
Whether you wear plus size or petit,  finding the most flattering fit   that emphasizes your best assets will help you gain confidence in your appearance.
No matter your size, there are choices to consider including style, color, and shape. With so many choices, it's important to consider what makes you feel beautiful.
Wear a bathing suit that accentuates your best features whether its choosing a color that brings out your eyes or a cut that lifts and tucks. These little choices will go a long way to improving your self-esteem this summer.
Know your body shape before you shop for the best swimsuit. This will help guide you with your choice of bikini, one-piece, or swim skirt.
Know your comfort level. If you feel it is too revealing and risky, find one with a little more fabric. Don't buy that cute little bikini  if you are going to feel   self-conscious and uncomfortable.
Find a Matching Cover-Up
Beach and pool attire don't just involve swimsuits, but an overall look that includes fashionable cover-ups and the right footwear.
There are hundreds of styles and colors for cover-ups. Chances are you already have something in your closet that could be used as a cover-up.
The best part is that if you are already confident in wearing your closet treasure in other ways, then you will feel beautiful and confident wearing it over your bathing suit.
Beach shops have cover-ups galore with style and color choices. As with anything, black is a slimming color, but boring.
Explore Your Business Potential: Discover Our Range of Transformative Courses Today!
Unveil the power of knowledge with our diverse array of courses, from Operational Procurement in S/4HANA to SEO essentials. Elevate your expertise and drive success in your business ventures.
Get your course
Let your personality and confidence shine through whatever cover you choose to wear!
Accessories: Girl's Best Friend
As with any outfit, accessorizing can make or break the look you're going for. Cute sandals will give your feet the confidence you need to strut your stuff with your head held high. Add a trendy beach bag to finish your look.
Jewelry isn't necessary for the beach or pool look that you are going for, but small earrings can compliment your style.
Add a straw hat and a sexy pair of shades. Better yet, an amazing hair style does wonders for a girl's self-esteem. How about adding soft braids or long beach waves?
Wear your best, most adorable accessories to the party. Keep in mind that if you plan on swimming, you may not want to wear accessories that shouldn't get wet.
Oh, and don't forget the mascara. Waterproof is essential unless you want to come up out of the water looking like a football running-back.
Plan Your Purchase
Don't rush through purchasing a swimsuit. You need to try on different styles to evaluate your comfort level and fit. Consider it like buying your prom dress.
It takes time to find the perfect swimsuit that will be the fashion-wear centerpiece of your summer. Ya can't rush perfection!
The swimsuit industry has something for everyone. Tall, short, skinny, or fluffy — the right one is waiting for you.
No Fad Diet
Somewhere around New Year's Day, almost every woman in the world begins to look at her waistline and rear end with a hint of sadness.
Women make promises to themselves in the form of resolutions to lose the weight before swimsuit season. But, inevitably, most break their promise within three weeks.
You need to hear this. It's okay to be overweight and wear a bathing suit. Your weight isn't what makes you attractive; it's your confidence and how you wear it.
Don't misunderstand what I am saying here. You want to maintain a healthy lifestyle, but fad dieting to lose a few pounds with the expectation of looking better in a bikini isn't worth feeling bad about yourself if you don't reach your goal.
Don't go on a quick starvation diet where eating only twigs and berries is recommended. Instead, adopt a healthier lifestyle that includes exercise and a balance in nutrition.
Part of feeling confident in a bathing suit is feeling physically healthy and optimistic.
No One Cares
You are the only one who is making a big deal about your thick thighs and flabby arms. The waves will continue to break on the sand, regardless of whether or not you dare to wear a swimsuit this year.
The party won't end because your skin is milky white with no sign of tan-lines and your afraid of what people will say. Why let others have so much power over your happiness?
Take back control, and replace your negative "What if?" with "Who cares!"
Listen, girl, the beach won't be deserted if you show up in a potato sack. Wear what makes you feel like a rock-star, and wear it confidently!
Robyn Flint, CompareLifeInsurance.com
Robyn Flint writes for the life insurance comparison and education site, CompareLifeInsurance.com. She has an MS in Clinical Mental Health Counseling. She is an older, plus-sized lady who works daily to have a positive body image.  
---
Explore Your Business Potential: Discover Our Range of Transformative Courses Today!
Unveil the power of knowledge with our diverse array of courses, from Operational Procurement in S/4HANA to SEO essentials. Elevate your expertise and drive success in your business ventures.
Get your course
---
---