Even though the season isn't over yet, it is already time to start thinking about what the trendy beachwear 2021 could be.
---
---
Trendy beachwear 2022
Even though the season isn't over yet, it is already time to start thinking about what the trendy beachwear 2021 could be.
Several trends have emerged lately, and  an animal print   bikini set is now a must have in your beach bag, and it is getting trendier to have a high-waisted bottom as well, which is a great news for everybody as it is also a great option for plus sizes with plenty of options available.
Options with  a bright neon color   seem to be slowly getting out of fashion, and probably won't be trendy anymore in 2021, however in 2020 they are still a thing, even if mostly coming from trendy beachwear 2019 fashion.
In order to get a bit more insights, we asked several experts for their advice, and came up with these great answers that might help you finding the right solution for your upcoming holiday.
Remember that the most important always is to feel comfortable, and being confident does the most of looking good in any beachwear. However, following these trends might just give you the little bit of confidence you need to feel amazing and look like this!
Which beachwear trend for 2020/2021 do you like the most? Let us know in comments - or contact us to be featured and get your beachwear pictures published!
What are the international swimwear trends for this year, are you already prepared for the upcoming season, or will you stick with previous year fashion? Do you prepare differently for different countries or regions?
Sheena Cruz, SS House of Couture: I love going off of what my heart tells me to design
As a designer I do not always go off trends. I love going off of what my heart tells me to design. I always wanted to make my own lane and stay in it. The bathing suits I have now are for this season and I went on a very simple design with the reflective SS logo but i am already working on winter and summer season as we speak. As far as preparing differently then other countries or regions I do not go based off of what other designers do because we all have our own Niche. I will bring many more unique designs into next season.
Sheena Cruz of SS House of Couture
Rachel Kylian: show up and show it in white plain one piece swimsuit
Rachel Kylian on Instagram: "When you have a #casting and they want to see your sexy body. You show up and you show it @donathandonaldcasecasting @sagaftra #actor…"
Souvenir from a photoshoot in Malibu.
I am a beach person and I often go to the beach in Los Angeles, Malibu is one of my favorite.
I am an actor and sometimes have castings where they ask me to come in swimsuit.
I posted that picture on the same day of my casting.
No training, no specific equipment, just a great photographer @nycinstagram.
Rachel Kylian is a French-American actress. Her latest film credits include notably, Universal's comedy Almost Christmas, the action thriller Interpreters directed by Michael Ryan, the romance "The Moment" directed by Panjapong Kongkanoy & Laddawan Rattanadilokchai, the Lifetime movie The Wrong Man and Sony Pictures' "The Climb" directed by Michael A. Covino.
Karina Bik: a lovely floral pattern with shoulder and bottom frill
For people who follow me, my blog is not the Grand Central for new swimwear collections! Far from it. But in spite of this, a few times a year when I get inspired by a particular piece or collection, I'll post a swimsuit whose aesthetics I particularly enjoy, or if I know the designer and he/she does good work. This exact shot was taken in Montauk at Gurney's Hotel during a PR trip, and I was out basking in the mid-day sun with an Aperol Spritz in hand and my favorite Chanel sunnies to boot! The bathing suit is by a boutique designer from California called "Show Me Your Mumu," and it has a lovely floral pattern with shoulder and bottom frills, as well as a cute tie detail in the front. It's spontaneous, energetic, towards the conservative end of the swimwear spectrum, and I usually choose functional suits like this because I'm a fish at heart and I spend far more time in the water than I do on the beach. I also think my followers really enjoyed this photo because the location is only 2-3 hours from the "concrete jungle" of NYC, but it looks like it's worlds away.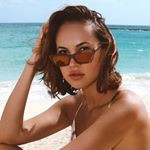 Karina Bik, Blogger / Social Media influencer, @karinabnyc 400k followers
Eliska, BeMine: Matching couples swimsuits
Want to be stylish on your trip? Matching swimsuits for couples are the hottest gift this year. Make your vacation unforgettable in our matching swimsuits. Be together everywhere and every time.
You can check them here
Eliska, BeMine
Elle Brown, Nihaojewelry: from retro styles to sexy high-waisted suits
In the summer of 2020, a series of interesting swimming trends emerged, ranging from retro styles with rim bikini tops and high-waisted bottoms to sexy high-waisted suits and so on. For example, on the fashion catwalk, animal printing is the first choice for several seasons, it is eye-catching and sexy, especially on swimsuits. Traditional animal patterns inspired by Africa, such as leopards and zebras, are still very popular. In addition, this year we noticed a new trend, which includes some unusual patterns such as butterflies and birds.
We just wrote an article about swimwear trends in 2020 not long ago, here is the link:
Swimwear Trends in 2020
My name is Elle Brown, working for Nihaojewelry.
Jennifer Will, ETIA: long-sleeve tops, short-sleeve one-pieces, booty shorts, and ultra-high-rise bottoms
Fashion and trends go hand in hand and when it comes to swimwear, new trends are taking over. Although this year, till now, had been disastrous for any vacation plans it hasn't stopped new fashion trends to take over. One of the biggest trends in swimwear that the experts are talking about is covered-up pieces. Swimsuits with new shapes are very in nowadays. The long-sleeve tops, short-sleeve one-pieces, booty shorts, and ultra-high-rise bottoms and similar trends are very hot right now. The modest silhouettes with some skin show or super-cropped top or a plunging neckline are also very fashionable this year. Apart from that, there are many colors that are trending. Bottega Veneta, Valentino, and Emilia Wickstead, all have incorporated tangerine shade. It is obvious that this tangerine trend will surely penetrate from fashion shows to swimwear suits. Most of these trends will probably continue next year, as many of us haven't enjoyed most of it in 2020.
Jennifer, Editor at Etia.com, where we aware the travel community with the latest information on Etias and other travel-related education.
Frequently Asked Questions
Are couple swimsuits 2022 swimwear trends?

Definitely, paired swimwear to match is a great summer gift this year. If you want to make your vacation unforgettable and become the main stars on the beach, then this is the best option.
---
---
---