---
---
Summer is approaching and for many women a question arises again: Which bathing suit should I buy?. For some buyers, this question seems simple, for many women, it is not. This questioning represents a quite big challenge since it is not only about obtaining a beautiful bathing suit but also one that makes them feel comfortable, that meets their expectations, it is not boring and benefits their body.
Which swimsuit to choose?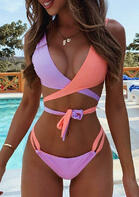 The big question mentioned above is only one of the challenges that women face during this season, it does not mean that at other times of the year you can not buy swimwear. When you go buy a swimsuit you have too many options to choose from, many colors, patterns, brands, and sizes - Yes, not all sizes 8, per se, are the same -. In addition, frequently women often fall in love with swimsuits in commercials, since they look perfect on the models, however some times when it comes time to try it on your body... The reality could be different, and that is when the mind starts to play tricks with you.
Swimsuit for small chest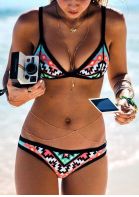 As we all know, women's bodies exist in different shapes, colors, and sizes, the reason why the swimsuit market has different references to benefit each one of them. In this opportunity, we are going to talk specifically about one body type and the swimsuit that many women with small breasts prefer, to buy to enjoy their summer or simply to feel comfortable wearing one.
Make boobs look bigger
If you are a woman with a small chest, many times you want a swimsuit that makes your boobs look bigger than they are, or at least not to make the small size the focus of the attention. Usually, when you buy a bikini it comes without any support, wire, or padding, or at least this was how it used to be a few years ago.
The push-up bikini is great for small busts

For some years in the past, the swimsuit market has reinvented itself and this is how it tries to please and satisfy most women. The push-up bikini, as it is known commercially, commenced from the need to satisfy those women with a small bust, or those who simply wanted theirs to be more noticeable.
Underwire bra bikini

The most common push-up bikini is the underwire bra bikini, which has become famous day by day. We can see that its use is more frequent not only in pools or at the beaches, we also can notice their presence in different social networks, such as Facebook, Instagram, and TikTok, where influencers are using them more frequently.
Push-up bikini: the summer lingerie

Some people call the push-up bikini the summer lingerie, and this due to the similarity of the bikini bra with the regular bra a woman would use in a daily basis. This type of bikini not only provides comfort but also increases a little self-esteem for the users since it makes them feel more attractive and confident with their bodies.
Choose the push-up bikini!
All women want to look attractive, and in the summer on the beach I want to emphasize the dignity of the figure even more.
If you have small breasts, then it can be enlarged thanks to a swimsuit with a push-up effect. If you have sagging breasts, then it can be lifted thanks to the push-up effect. If you have beautiful breasts, then you can make it more sexy by creating a hollow. And it's all thanks to your push up bikini.
If you are looking for an easy, affordable, and stylish option the push-up bikini is your greatest choice.
You will surely find the perfect bikini in the selection of styles available. Let us know in comment what is your favourite, how did you wear it – and write us to get your pictures featured!
---
---
---