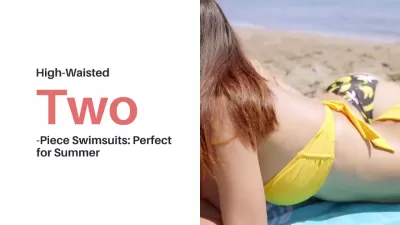 ---
---
Summer is a beautiful time of year. The sun is shining, festivals and activities are in full swing, and fashion is about looking nice while staying cool. Fashion trends have been coming back through recent years, one of the most popular being high-waisted jeans and shorts.
But what about your bathing suit? If you're a huge fan of the high-waisted trend coming back, or even just want to try it out to see if it's for you, you've come to the right place.
It doesn't matter  if you are under 25   or over 50, a high-waisted bathing suit can be a great option to give you some extra style points this summer.
Until recently, the typical trend of two-piece bathing suits was a low rise bottom, stopping close to the hip bone. With high-waisted swimsuits coming back into fashion, we see the bottoms reach the natural waistline, right above the belly button.
Who would benefit from a high-waisted bathing suit?
Anyone who wants to wear one! They are great as a fashion statement, and the trend will only continue to rise. High-waisted swimsuits can be a great style choice for any woman, no matter her body type.
There are so many cute prints and variations available. You can choose a fun print or  a bright neon color   to really make your skin pop. High-waisted swimsuits also provide more than just a style choice, they have other benefits to offer.
If You Want to Stay Modest
High-waisted swimsuits are great if you're someone who likes to show a little less skin.
Depending on the bottoms you find, you will likely only be showing a tiny portion of your midriff, which is ideal if you don't want to fully commit to the coverage of a one piece but don't want to feel completely exposed in a low-rise bottom.
This is a wonderful style for someone who wants to be more modest at the beach or pool, without giving up the fun and style of a two piece bathing suit.
Choosing a high-waisted two piece gives you the best of both worlds, with no compromise.
If You Want to Cover Up a Problem Area
As women, we can be much more susceptible to that annoying lower belly pooch. Whether it be from childbirth, surgery, or just body type, it's something that is difficult to disguise in a low-rise bikini.
There is just nowhere to hide it!
A high-waisted bathing suit provides coverage to hide that stubborn area while also keeping you stylish. The high-waisted bottoms will give you some extra support and coverage without the sacrifice of style.
If You Want to Show Off Your Curves
If you're someone who wants to show off those fabulous curves, a high-waisted swimsuit is going to be the perfect option for you. Because the bottoms sit at your natural waist, they define your curves even further, creating a wonderful silhouette.
Women who have a pear or hourglass figure will find their curves are much more pronounced in all the right ways when wearing a high-waisted, two piece bathing suit.
If You Want a Retro Look
High-waisted bathing suits were all the rage in previous generations, and now they are making their comeback.
If you are a fan of the 50's style, a high-waisted swimsuit will give you that retro feel you're craving. Add in some extra cute accessories, and you'll look like you just stepped out of a 50's fashion magazine.
If You Don't Want to Worry about Your Bottoms Slipping
Nobody wants to be in the water having fun and have to constantly pull up their bathing suit bottoms. It's annoying and can be a very common problem for low-rise bottoms.
Because they sit so low on your hips, the chances for them slipping down or even off can be high.
With a high-waisted swimsuit, your worries are put to rest. Since the waistline of the bottoms sits at your natural waist (much higher than your hips) you won't have to worry about slipping.
You have the extra protection so you can enjoy your time in the water without the fear of losing your bottoms.
Picking the Right Style for You
When it comes to high-waisted bathing suits, there are a couple things to look out for based on your body type.
Though anyone can pull off a high-waisted swimsuit, there are a few things to look out for and  keep in mind when deciding   on one based on your body type.
If You Are Small-Chested
If you are smaller up top and wider on the bottom, here are a few tips that will help if you're looking to achieve a more defined hourglass figure.
Opt for solid printed high-waisted bottoms, and then choose something fun for your top. You can go with some ruffles or an interesting pattern like an animal print.
Having a funky top and understated bottoms draws attention higher and can give the illusion of a larger top, making you feel more filled out in an area you may normally not.
If You Want to Draw Attention from Your Stomach or Hips
Maybe you are someone who wants to cover up a little because you have a problem area you wish to hide.
Choosing a dark bottom such as black or navy blue will give you a slimming effect in your lower half. Choosing a bright or patterned top will help to keep the eyes up and away from your belly or hips.
If You Are Not Curvy
If you don't have strong curves, don't fear! There are still options that are wonderful for your body type.
Choosing a bottom that is patterned will help give the appearance of wider hips. Horizontal stripes are your best pattern choice because they really give a widening effect.
Choosing bottoms with ruffles or embellishments can also create the illusion of a wider bottom.
Pick Your Look and Rock the Style
If you very briefly answer the question: who will suit a one-piece swimsuit, then the answer to it will be just one word: everyone!
And indeed it is. For example, slender girls, happy owners of a perfect figure, can generally choose swimwear of any style and style. A closed swimsuit is able to hide figure flaws - extra centimeters at the waist and sides, a small tummy, stretch marks after childbirth, postoperative sutures.
Choosing a bathing suit can be stressful for any woman. When it comes to finding the right suit for you, it can be easy to get discouraged.
Every woman's body is different and sometimes it takes a couple of tries before finding the piece that is just right for you.
Following these tips and tricks can ensure that if you're hopping on the high waisted two piece trend, you know what to look out for so you can enjoy your summer and look great doing it.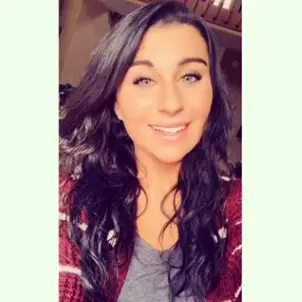 Alexandra Arcand, AutoInsurance.org
Alexandra Arcand writes for AutoInsurance.org and loves to try out new fashion trends. She is an avid lover of summertime and hanging out by the pool. 
---
---