What is the single best tip that experts can share for rocking a swimsuit and taking the best Instagram picture ?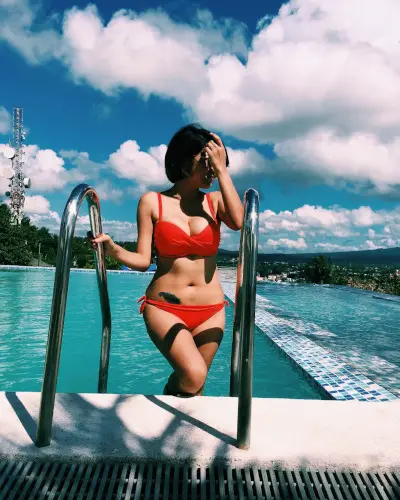 ---
---
Confidence is everything
For the longest time, I preferred the comfort and ease that winter outfits gave me. The truth is that I used the wintertime as an excuse to enable my insecurities surrounding my body. The loose hoodies and sweatpants helped me cover all the parts of my body I felt looked better hidden. However, seasons change, and eventually, I got tired of dreading the summertime.
While everyone was getting excited about hitting the beach, I was busy obsessing over my body. One day, I said no more. My body was perfect, whether it fit the ideal standard of beauty or not. My one tip would be to own who you are, love who you are, and be confident. If there's one thing that shines through pictures, it's confidence.
It's not about having the perfect body
It's not about having the perfect body--everyone has different body types and there is no one perfect way to look. Confidence comes from within, so focus on feeling good about yourself and your abilities, rather than worrying about what other people might think.
Also, try to pick a swimsuit that makes you feel comfortable and confident. If you feel good in a bikini, go for it! But if you feel more comfortable in a one-piece, then go for that instead. The most important thing is to wear something that makes you feel good and makes you happy. So rock your swimsuit with confidence this summer!
Try The Swimsuit First Before Buying
Trying and fitting a swimsuit before buying is very crucial. Especially with women who have unequal sizes (like me, XL for top and L for bottom).
You have to make sure that the swimsuit fits perfectly for you. It shouldn't be too loose because you don't want to walk around naked and your swimsuit drooping. You also don't want it too tight because it will expose your extra fats while wearing it. So whether you are busty, skinny, thick, or have an unequal size like me, it is best to try a swimsuit first before buying it. I don't recommend buying online as well since you can't fit it unless you are very confident with your size and the brand's size.
Buy a bikini that fits really well!
Bikinis are designed to fit certain body types. If the fit isn't right, then you'll look awkward in the picture. Wearing a bikini that doesn't fit well will make you look less attractive, and if you're getting ready for the beach, you'll probably be too uncomfortable to enjoy yourself. Look for a bikini that fits you perfectly. Wear a swimsuit you feel confident in!
Look at yourself and say out loud Wow, you look good!
Without a doubt, and I'm sure I'm not the only one to say this, but the absolute best tip is confidence. But that's still a little too vague so I strongly suggest that people build up their confidence with positive self talk.
Yep, I'm saying that you should put on your bathing suit, look at yourself in the mirror and say out loud Wow, you look good! Like, really good!
I know, it might sound a little silly but it works. This technique has been used in sports for decades and you can check out some studies here. But I can also tell you that it works for me personally.
I'm a plus size gal and feeling confident in a bathing suit hasn't always been easy for me but regular positive self talk really helps and I've made it part of my new bathing suit routine.
That self talk will carry over when it's time to take photos since you already _know_ that you look good.
Also, when it comes to picture time, I'm a big fan on standing my tip toes (just a little bit). Not when there are other people in the shot but for any photo that show the top 3/4s of my body, standing on my tip toes helps my legs look a little longer and gives me a better shape!
Look for swimsuit models with a similar body type
Slipping into a swimsuit - whether it's a one-piece or a bikini - can be a terrifying experience for those who are not confident in their body. One of the best ways I've found confidence in wearing a swimsuit is to look for swimsuit models with a similar body type to myself.
You can find all kinds of models and influencers on Instagram and other social media platforms striking a pose like they just don't care! The variety out there is encouraging and can help you figure out what looks good and poses that you want to try. You will be surprised by the beautiful photoshoots you can find online, and how they can help you find the look of your dreams!
Angles, lighting, and personality are key
As an AskAGirl advisor, I get asked this frequently. Angles, lighting, and personality are key to exuding confidence on Instagram! When taking a photo, always find your light to avoid casting weird shadows, and shooting from below makes legs look extra long.
Exploring with different poses is crucial
You must feel confident in your swimwear: It goes without saying that to take killer Instagram swimsuit photos, you must feel confident in your swimwear. Thus, you need to choose a swimsuit, bikini, tankini, or kaftan that is flattering for your body shape. Exploring with different poses is crucial. You need to find out what angles you feel more comfortable and confident in. Having a few go-to poses helps. However, you can get amazing pics, just not trying at all.
A flattering bikini pose is standing on your toes since it'll make your legs look longer. The background is detrimental too. So, you'd better select the landscape carefully. Not surprisingly, lighting is essential. Late morning or afternoon sunlight can work pretty well!
The secret is styling your swimsuit with other pieces
Wearing a swimsuit can trigger stress and cause your confidence levels to plummet. However, that should not be the case. You can still rock a swimsuit and look bomb on your Instagram page!
The secret is styling your swimsuit with other pieces you currently have in your closet. It also depends on which part of your body you want to show off – either your upper or lower body.
If you are highlighting your lower body, you can style your swimsuit with a:
Puffy and voluminous top
Linen or mesh top
Loose tank top
On the other hand, you can wear these to complement your upper body and add oomph to your overall look:
Flowy pants
High-slit skirts
Denim short shorts
Don't forget to accessorize by wearing a wide-brimmed hat, oversized sunnies, or statement earrings, and you're on your way to a perfect Instagram-worthy look!
Accessorize to help build your confidence
Rocking that swimsuit is all about confidence. Regardless of size or shape if you walk with a spring in your step and head held high you will draw attention. Remember to accessorize to help build your confidence, you can style with a wrap, over-sized shirt or heels to help you maintain your cool.
When it comes to instagram swimsuit shots I always push my booty out and my chest forward whilst turning my knees inward. Although in reality this is not a flattering pose you will appear thinner whilst retaining curves and creating a upper thigh gap.
---
Explore Your Business Potential: Discover Our Range of Transformative Courses Today!
Unveil the power of knowledge with our diverse array of courses, from Operational Procurement in S/4HANA to SEO essentials. Elevate your expertise and drive success in your business ventures.
Get your course
---
---